Back to overview
12 December 2019
Meet Elfi, one of our Interiolizers: "We're nothing like the classic calculators"
Who are our Interiolizers? They're the faces behind every complex, unique and exclusive assignment created by us at Luyten. They're people with equally unique skills, whose active contributions help make our achievements so exciting. In this blog post, we'll introduce you to Elfi, one of our calculators. What does her job look like in practice? And what keeps keeps her busy once the working day is over?
I was tired of 'assembly-line' work
Elfi has been working at Luyten for almost three years now. But she already has a lot more experience in the world of interior design. "I actually graduated as an interior architect. But I only provide interior design advice to friends and family. After my studies, I immediately immersed myself in the commercial world. I got my first experience working for large kitchen builders – but I soon found I was tired of anything that resembled 'assembly-line' work."
"I like to get to the bottom of things. I want to get everything right, down to the last letter, the last digit. But I am also a fairly pragmatic person. For example, I find it more interesting to see how a project progresses rather than just limiting myself to its design."
Happy to see results with my own eyes
"So I took a chance at Luyten, applying for the position of calculator. When I came in for the interview, it quickly became apparent that they wern't looking for someone who fit the 'classic' calculator profile. Because at Luyten, calculator also go on the road a lot. That appealed to me, as did the complex bespoke products that leave the studio here every day."
"However, calculators still matter most in the preparatory phase. How do we put together a budget? Which materials are a good fit for that budget? Is the deadline feasible? Nevertheless, we often get to see the end result with our own eyes. Especially for renovation projects, calculators regularly do on-site visits. This allows us to get a closer look at the project and to identify any problems on site."
"We also check everything closely with CEO Bert, with the project leader and with the technical draughtsmen: How has the project evolved since the first budget calculations? Has the choice of materials changed in the meantime?"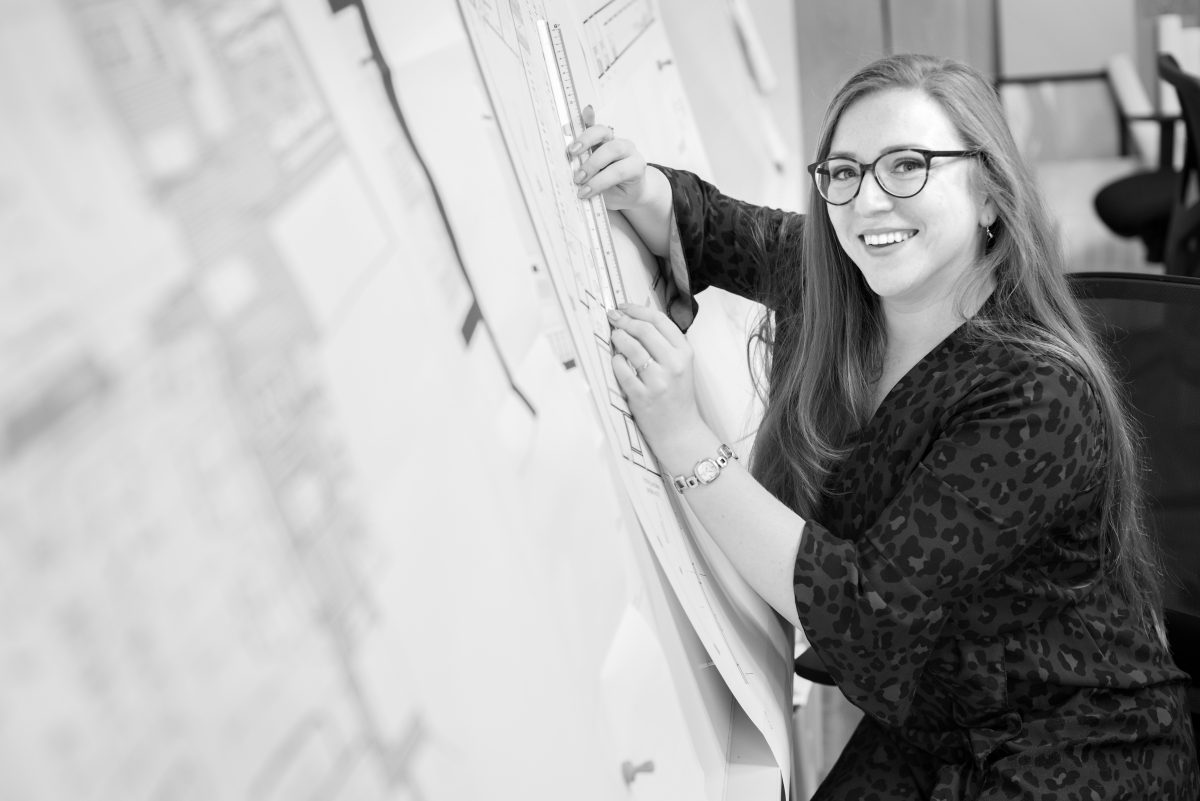 Around the table with designers and customers
"The best thing about my job as a calculator is that we get to actively participate in the process. It's not just about running numbers and filing budgets. No, we get to sit around the table with designers and customers. So there is quite a bit of decision-making and responsibility involved."
"That's a level of responsibility that is thrust upon your very quickly here at Luyten. I remember that on my first day, I was immediately entrusted with a complex project, and not much later I was allowed to sink my teeth into a large loft project. That was an ordeal (laughs), but you quickly gain a lot of experience and get to know the customers better. I now also have a number of regular customers that I manage on my own."
Using experience during renovations
Currently, Elfi's life is almost entirely dedicated to remodelling. "My husband and I are undertaking some major renovation work. Fortunately, my experience as a calculator comes in handy when we're requesting quotes, following up on the project, and things like that. What do I get up to with my time outside work? I enjoy baking treats, reading a good book or a taking nice trip."
Will you be Elfi's new colleague?
Do you have your sights set on a job as a calculator? Or are you curious about which Interiolizer job openings we're currently looking to fill? Take a look at our job vacancy page or send us your spontaneous application.