Back to overview
26 May 2020
Refurbishment of Van Esser jewellers: renovation meets sophistication
Van Esser jewellers are located near the Meir, in the very heart of Antwerp. Their old, charming property underwent a major renovation, including a refurbishment of its interior. The latter project was carried out using a warm mix of materials: with a sleek finish, but also with a wealth of delicate details.
Transforming ideas
For this project, on the one hand we worked with an interior architect who had a detailed pre-design for the refurbishment of the jewellery store; and on the other hand, we had a client who themselves had a clear vision, with many new and fresh ideas of what they wanted.
The central concept for this interior was to achieve a sleek look, delicate details and a high-quality finish. Additionally, the security of all the precious objects in store had to be guaranteed at all times.
It was up to us to bring together all these elements into a harmonious end result. And in so doing to transform the ideas of all parties, as well as their close collaboration, into a shared sense of satisfaction.
Warm materials
As decoration for their shop, the jewellers chose a mix of varied, yet predominantly 'warm' materials and colour tones:
Custom-made desks and staircase lighting in high-gloss mahogany
Walls in brushed oak veneer, finished with an exclusive painting technique
Natural stone borders for those same walls
Display cabinets in canon de fusil, with built-in heaters
Covers for the shop windows in Alcantara leather
Strikingly inconspicuous
Of course, security is a top priority for jewellery stores. That is why we provided electric locks for the display cases and shop windows. We did the same for the custom-made desks. Behind the detailed fronts of the drawer units, there is an invisible, contactless protection mechanism.
Other strikingly inconspicuous interventions include: a custom-made safe cabinet and an invisibly concealed door in oak veneer, which leads to the basement via a subtly curved wall.
From lighting to security: interior advice targeted at jewellers
In a jewellery store, every last detail has to be just right. Every exclusive piece of jewellery has to be perfectly exhibited. At the same time, they must be protected against jewellery 'fans' whose intentions are less than honourable. We provided an interior design that was both aesthetically and functionally well-conceived, entirely of a kind with the treasures glittering inside their display cases.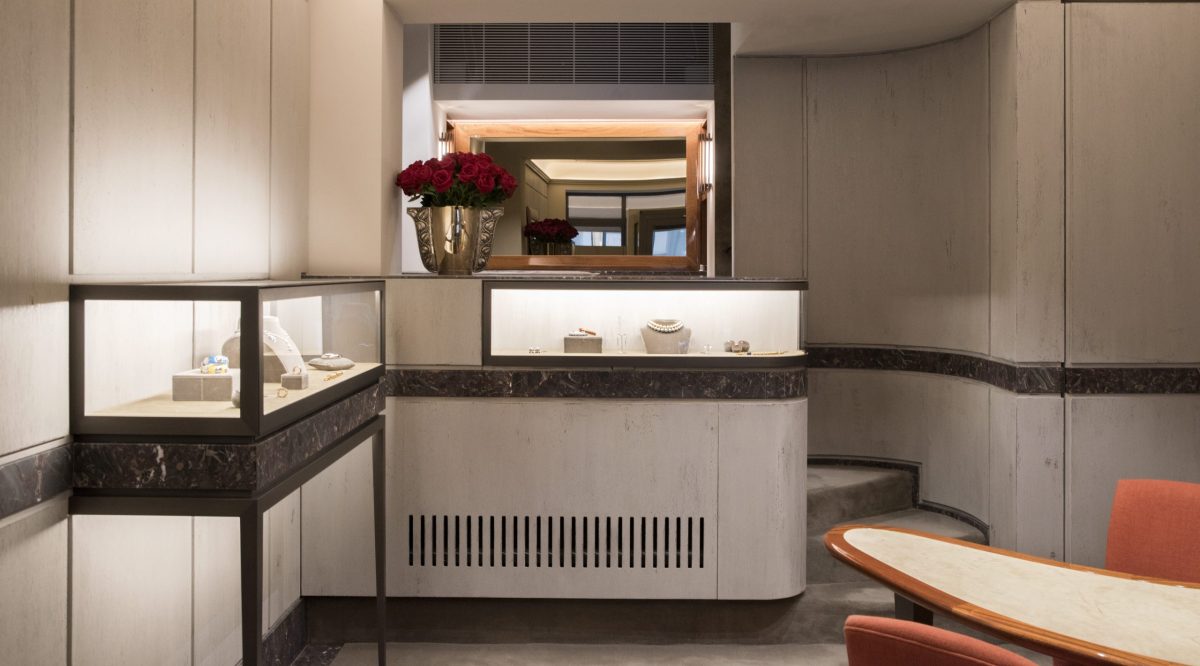 Do you have major interior design ambitions for a jewellery store? We are happy to assist you with advice, and to translate your wishes into concrete, exclusive ideas. If you're interested in an exploratory conversation, please do contact us right away!